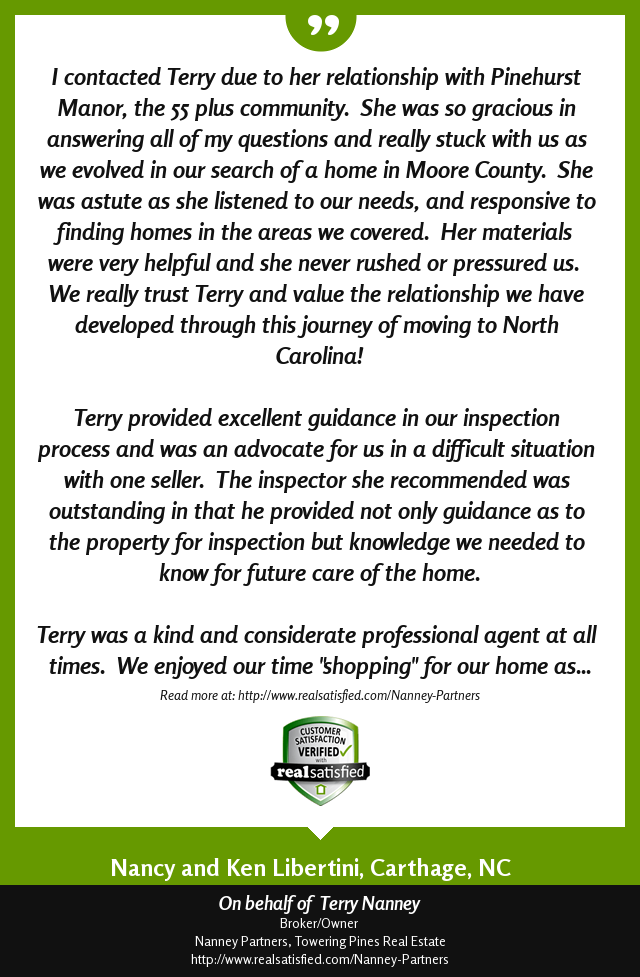 A Review That Made Us Smile from Ear to Ear
I contacted Terry due to her relationship with Pinehurst Manor, the 55 plus community. She was so gracious in answering all of my questions and really stuck with us as we evolved in our search for a home in Moore County. She was astute as she listened to our needs, and responsive to finding homes in the areas we covered. Her materials were very helpful and she never rushed or pressured us. We really trust Terry and value the relationship we have developed through this journey of moving to North Carolina!
Terry provided excellent guidance in our inspection process and was an advocate for us in a difficult situation with one seller. The inspector she recommended was outstanding in that he provided not only guidance as to the property for inspection but knowledge we needed to know for future care of the home.
Terry was a kind and considerate professional agent at all times. We enjoyed out time "shopping" for our home
Nancy and Ken Libertini, Carthage NC