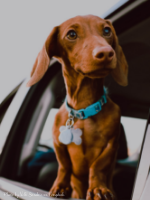 Prepare Your Pets: Moving With Your Animals
What a subject! When I made a major move from New York to North Carolina, I assumed my pets would be as comfortable with me in a car as they were in the house. Wow, was I wrong. My dog was just fine while my cat spent 14 hours in the car making an unbelievable noise over and over again!
Some simple prep would have made the entire trip so much easier for all involved.
My first suggestion would be to consult your veterinarian. You will want to be sure your vaccinations are up to date, get copies of all your records, and additional medications your pet may be taking. They can also speak to you about anti-anxiety medications that could keep your animals calm.
When your pets are in the car please be sure they are secure. If you are using pet carriers are they the correct size. Is your animal comfortable? If you are flying please be sure that the carrier meets all regulations for the airline you will be using.
My dog was quite large and we purchased a suitable seatbelt for him. He was able to stand up, turn around, look out the window; but not get into the driver's lap!
Also, I would highly suggest you get your animals micro-chipped in the off chance they might run away from the car; and when found you could be reached. Also add up-to-date tags on the pet's collar as well.
When we move we are very busy packing. Packing a separate box for your pet and knowing exactly where it is could be one of the most important things you do. Be sure to have your pet's food, treats, blanket/bed, toys, bowls, litter and anything else that they are highly familiar with. This will make their transition not only during the move but the first few days in their new home much easier.
While packing for your move and once you arrive at your new home, a great way to lower the stress of your pet is to keep them away from the action! Find a nice quiet spot for them to rest and be with those things they find most familiar.
Always remember that this is stressful to your pets, and they need reassurance. Talk to them and be calming. A new home for everyone awaits.